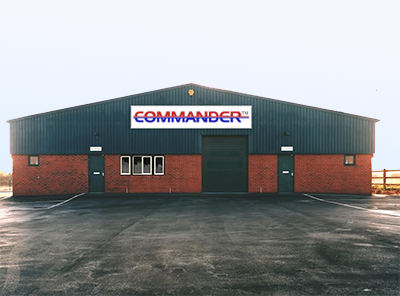 About Us:
Commander Controls Limited is a UK company formed in 1993 and was merged with two other associate companies to further develop remote control system technology using Infra-Red and Radio as transmission mediums and supported with advanced specialist microcomputer software management systems for secure signal coding and transmission and in addition to develop crane detection equipment as a safety product to automatically prevent collisions between crane structures during lifting operations using Microwave, Ultrasonic's and Infra-Red as communication mediums each with specific performance capability for a wide range of horizontal and multi-level vertical applications.
In 1998 High Integrity Control Systems (HICS™) was formed as a division to further expand a developing specialist crane control gear business in the high integrity lifting operations market to design and manufacture of AC & DC motor control systems and safety devices for conventional and high integrity lifting operations to include cranes in power station turbine halls, nuclear refuelling, spent fuel waste flask carriers, weapons loading, other military and heavy engineering.
HICS™ use the very latest in CAD technology in the design and manufacturing process. Engineering design tools include mechanical & electrical design software, combined with fast access computer systems, colour printers and plotters. HICS™ have already gained a successful track record in full scheme project design and contract management with a number of large OEM's and clients. Subject to contract terms, scheme designs can be presented on second and third party drawing borders. All scheme designs remain the intellectual property of HICS™ parent company, Commander Controls Limited.
To complement HICS™ motor control scheme designs, the company has developed an advanced range of Eddy Current Brakes (ECB's) for effective speed control and safety braking system in five sizes called ComDrive™ these are effectively controlled with ProSpeed-II™, a Closed Loop Speed Control System of common design for all five sizes of the ComDrive™ ECB system. These are all seismically qualified and fully type tested and certified by independent test house (BSI).
HICS™ have a forward development program for a number of products, included is a short distance passenger transportation system called LRV™. Details of the LRV™ development project can be seen later in this brochure and in graphic motion and more on our websites at:- www.commandersystems.co.uk & www.commander.co.uk.
Please Note - We are unable to provide specification and control hardware or sequence detail for control panels/suites as shown on this website as these are specifically custom built/configured to suit a client/users application